We provide full-service property management.
We're hands-on, so you don't have to be.
Our people make the difference. Our backgrounds. Our strategies. Our action plans. Our execution.
We strive to deliver a top-tier level service to both residents and property owners by simplifying the complicated. Easy to understand terms, simple fee structures, honesty and transparency are all part of the core values that Augusta Rental Homes strives to deliver everyday.
Our mission is to always be good stewards of the asset, respecting both the residents' and the property owners' interests in the property. In doing so we know our value will be the very best we can offer every step of the way.
Innovation is part of our culture and we remain actively involved in NARPM (National Association of Residential Property Managers) to stay current on the latest property management industry trends.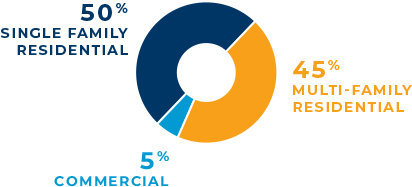 Augusta Rental Homes is one of the most diversified in the CSRA with a uniquely-positioned product mix of Single Family Residential (SFR), Multi-Family Residential, and Commercial Properties.
This allows us to assist residents in multiple stages of their lives—whether they may be looking to upgrade from an apartment to a house, or downsize from a house to an apartment—and retain the most qualified, enjoying a long-lasting relationship with them.
Each owner is different.
Recognizing different owners have different needs, Augusta Rental Homes provides multiple services to help maximize benefit and value. Our most requested services are:

Full Service
Management
The most common service provided by Augusta Rental Homes, our full service management is for the true owner or the person looking to save themselves from the headaches of property management.
Augusta Rental Homes manages the leasing, maintenance, renovation, and turnover process, as well as the many other situations that may arise.

Resident
Placement
Take advantage of our rigorous screening criteria and have Augusta Rental Homes do the heavy lifting for you!
For resident placement services, Augusta Rental Homes markets your property, screens applicants, selects the resident, and signs a lease. Many find this service helpful if they are working a full-time job or are hesitant about the showing process and selecting a resident themselves. Leverage our system to help make the process easier for you.

Project
Management
One of the toughest times for managing property is when you are in between residents, or you've just acquired a new unit that needs some work. Between managing contractors and vendors, ensuring timelines are met, and adhering to budgets can be very challenging.
Our team at Augusta Rental Homes has renovated over 1,000 homes and counting! Let our expertise work for you and get you off the ground.
We bring big value.
At Augusta Rental Homes we realize that we need to bring true value to both owners and residents.
We do this is by leveraging technology in multiple ways—from showing houses to providing owner and resident online portals; from e-leasing & electronic payments to thorough reports.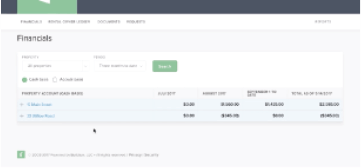 Online Portals
Owners have access to a secure online Owner's Portal where they can:
see the current status of each property
see work orders that are open or recently completed
see who has paid rent or who still owes
access financial reports (ie: detailed income statements, balance sheets, and rent rolls)
communicate with their portfolio manager
send and receive funds and much more!
This level of access allows the owner full transparency to know exactly what is going on with their property at all times.
Residents have access to a secure online Resident Portal where they can:
submit work orders
pay online
view their lease
track their communication with Augusta Rental Homes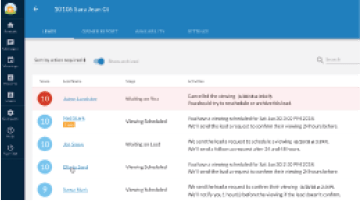 Applicant Screening
One of the most challenging portions of property management is selecting a qualified applicant to rent your home. With our pre-screening and rigorous application process, applicants are continually scored allowing only the most qualified applicants to be approved for our properties. Since having implemented these processes we have seen a tremendous reduction in delinquency and increase in resident longevity.
Augusta Rental Homes looks at multiple factors before approving an applicant, some of which include:
credit and criminal background checks
eviction history
landlord verifications
income verifications and more.
Augusta Rental Homes complies with all Fair Housing practices and procedures in their screening efforts.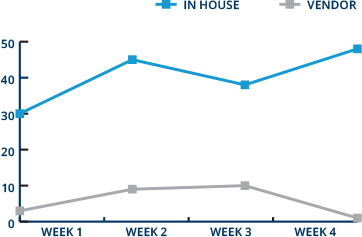 Skilled Team Members
Technology is wonderful at streamlining our processes, but we understand Property Management is still a people business. We credit Augusta Rental Homes' success to our skilled team members—from the maintenance crew to our office staff—who serve our owners and residents every day.
Maintenance can make or break a property. Augusta Rental Homes employs several in-house technicians with an array of skills to provide the most cost-effective solution to the owners. Having a certified HVAC technician on our team dramatically increases response time and savings to HVAC work orders. We handle as many work orders in house as we can, and add those savings right back to the bottom line of your investment.
The accompanying graph shows the number of work orders we are able to complete in house versus needing to use outside vendors each week over a standard month.
24/7 Accessibility. In addition to the online portals, Augusta Rental Homes has an after-hours and holiday answering service to serve 24/7. The answering service employs real people to gather important information from each caller, then reaches out to the appropriate Augusta Rental Homes team member to notify them of the issue. This after-hours line allows us one more way to provide excellent service to our residents and owners.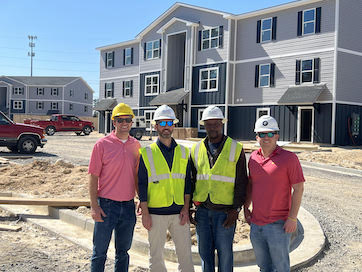 Project Management
With any property there comes a time when you need to do some work to it. Whether it is a new acquisition or just after a resident moves out, Augusta Rental Homes has you covered!
Our project management team has renovated over 1,000 homes so they have seen it all. With painters, plumbers, electricians, roofers, landscapers, licensed GCs, we can handle every scope we are presented.
With project management, the most important piece is the process. Having previous experience with multiple hedge funds, our teams follow a similar approach as many larger institutional owners.
Augusta Rental Homes uses labor-only pricing, meaning that there are no mark ups on materials. In fact, owners are often able to enjoy our volume discount with suppliers! With the volume of work our team has, the labor-only pricing model also allows us to drive down labor costs, as contractors know another job is waiting for them. Not having to float material expense and having consistent job security allows the contractor to provide Augusta Rental Homes and our owners with some of the most competitive prices in the area for the quality and speed that is expected.